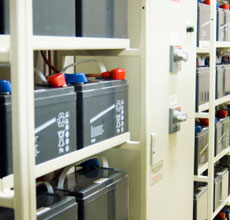 Computer Power Protection can provide replacement battery systems for all UPS systems. If you are looking to increase or decrease your battery back-up time or improve the resilience of your systems we can design a solution that meets your requirements.
Batteries are offered on a supply only basis or a comprehensive solution which, includes supply, installation and disposal of the existing batteries.
Computer Power Protection fully complies with Government Legislation requiring batteries to be disposed of according to stringent regulations.
5 & 10 year design life SLA batteries available
All battery manufacturers products can be supplied
Supply only or supply, installation and disposal
Batteries provided for all makes/ manufacturers of UPS
Disposal of existing batteries according to regulations
If you need a battery replacement, please contact us on the form below.