If you are a forward thinking business then you will understand the need for business continuity planning.
Your business challenge
Imagine how a sudden and unexpected power outage at your HQ or workplace, could impact your business's performance, reputation and security including the integrity of data held on your systems with possible GDPR breaches.
A loss of power for hours, minutes or even a few seconds could create damage for your IT servers, computer networks, telephone and security systems, manufacturing processes or other services.
A total power outage is not the only way your business can be harmed, a power surge (a spike) or a power dip (a brownout) can have the same negative effect on IT systems and other electronics, causing an expensive amount of damage or data loss.
The biggest cost that you may face is the impact this may have on your customers. Without telephones, computers and the product data they hold, your business will not preform to your usual high standards. The commercial impact could be enormous and you will struggle to retain that customer relationship should a standby power solution not be in place for protection.
Business continuity planning (solution)
With this in mind, it's easy to see why Standby Power is a proactive investment.
Shop UPS by Clicking a Popular Brand
Peace-of-mind
By installing an Uninterruptible Power Supply (UPS) you will be confident that your business will continue to function throughout any type of power disruption, from long-term power outages to short term scenarios.
We provide a complete UPS (Uninterruptible Power Supply) solution ranging from a Free Site Survey, installation, preventative maintenance, regular Healthchecks & Load Bank Testing
and remote monitoring of your backup power devices.
Possible power problems
Disruption to electrical power, you will find that you may face power problems from a complete outage to power surges and spikes, brownouts, switching transients or harmonic distortions.
Head over to this page to learn about power problems.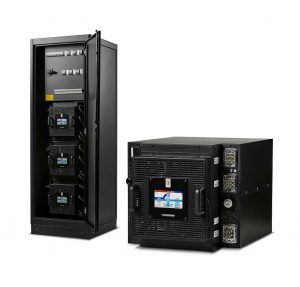 The business drivers
Computer disasters often lead to business failures – 90% of all companies that experience a computer 'disaster' and have no protection plan in place to protect them, they then on average go out of business within 18 months.
FACT - 28% of all computer system breakdowns are caused by power failures.
Prevents loss of reputation – Insurance cannot provide protection or a fix from the loss of good reputation. Market share and damage to a company's reputation following a computer 'disaster' but we can provide a preventative measure and a future solution for you to protect your reputation.
Improved profitability – More than 33% of organisations that experience a computer 'disaster' lose between £7,500 and £250,000. 20% lose between £250,000 and £750,000. 15% of companies lose over £750,000.
Improved employee productivity – Organisations suffer an average of 6 computer failures a year. On at least one occasion it takes 4 hours to get the system up and running again, leaving employees stranded.
Eliminates recovery time – Over 33% of companies that suffer a computer 'disaster' take more than a day to recover from the disruption. 10% take more than a week.
Prevents long recovery cycles – Insurance claims are not normally settled until long after the power problem has occurred.
Eliminates re-inputting of data – The re-inputting is a time consuming task, this time that is consumed could of been avoided and spent more wisely. Sometimes data is lost forever.
Eliminates the need for system reconfiguration – It can take up to 48 hours to reconfigure a multi-terminal or network system following a power failure.
Need assistance with business continuity planning? Our experts at Computer Power Protection are here to help. Get in touch.