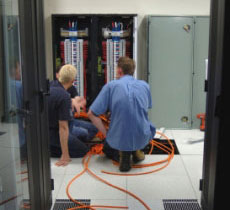 Commissioning
At Computer Power Protection we provide UPS and Generator installation and can quote for just the installation or for the whole project including equipment, installation, commissioning, etc.
In an instance where an existing system is in place, we will offer a trade-in allowance against the cost of a new system.
Installation can be booked either within or outside normal working hours, we are providing you with maximum flexibility to allow this work to be carried out with the minimum of disruption and downtime.
We can offer a free site survey to guide you through what you require and ensure the installation will work as required when required.
Your UPS and Generator Installation can include:
Electrical design
Installation
Switchgear and distribution boards
PDU's
Testing & Certification
Whats Next?
Our expert sales team will talk you through the whole process of what you need and will select the perfect equipment for you regardless of manufacturer. If you require Uninterruptible Power Supply and Generator Installation Contact Us Now for your bespoke quote.