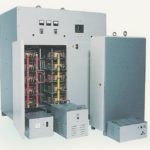 The quality and stability of the voltage supplied by electricity producers can significantly impact the performance and lifespan of electrical equipment. Fluctuations in voltage, caused by factors such as demand variations, transportation infrastructure quality, and distance from the grid connection point, can lead to inefficiencies and reduced equipment durability. To address these issues, voltage optimisers have emerged as a valuable solution to stabilise voltage levels and optimise equipment performance.
The Need for Voltage Optimisers:
Electricity producers provide a standard voltage that can vary within a range of ±10%. This fluctuation can harm electronic devices, causing them to fail more often (MTBF increases). It also leads to energy wastage when equipment operates at higher voltages than necessary (usually between 220V and 240V). To save energy and keep devices running efficiently, it's crucial to maintain a stable and suitable voltage.
How Voltage Optimisers Work:
Voltage optimisers are sophisticated devices that dynamically monitor the incoming voltage and adjust it to a stable and efficient level for electrical loads. By regulating voltage levels within the prescribed range, voltage optimisers extend the useful life of equipment and minimise energy consumption. The adjustments made by these optimisers ensure that electrical devices operate at their maximum efficiency level, reducing unnecessary energy losses and associated costs.
Energy Savings
One of the most biggest advantages of implementing voltage optimisers is the potential for energy savings. Depending on the type of load and the specific requirements of the equipment, voltage optimisers can result in energy savings of up to 12%. These savings translate into reduced utility bills and can lead to a rapid return on investment for businesses and industries that adopt this technology.
Voltage optimisers are essential for a steady power supply, better equipment performance, and longer lifespan. They control voltage levels, reduce energy waste, and save a lot of energy, giving a quick return on investment. When used with efficient uninterruptible power supplies, businesses and industries can improve energy conservation and become more resilient to power issues. Embracing voltage optimisers helps save energy, promotes sustainability, and benefits both profits and the environment.