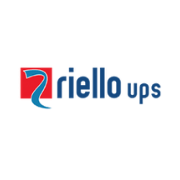 High efficiency
Sentryum is a true ON LINE double conversion UPS system providing the very highest levels of power availability, flexibility and unrivalled energy efficiency with superior performance for any small Data Centre and mission critical applications.
Compactness
Modern guidelines and sustainable best
practices direct us to conceive and design
UPS with particular focus on the entire
product life cycle, therefore applying
ultimate but resilient technologies, recyclable materials and miniaturisation of assemblies whilst ensuring the systems global reliability, which is pivotal for any UPS
The Riello UPS Sentryum S3T 15 CPT S2 rewrites the concept of flexible power by offering a choice of three compact cabinet sizes to suit the needs of any small data centre or mission-critical application. Enhanced overload and short circuit capacity guarantee maximum availability.
• Extensive range of solutions
• Compactness
• Efficiency up to 96.5%
• High power availability
• Smart Battery Management
• Maximum reliability
• Flexibility of use
• Graphic touch screen display