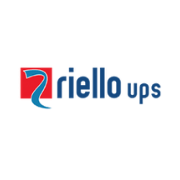 Zero impact source
Multi Sentry solves installation problems in systems where the power supply has limited power available, where the UPS is supported by a generator or where there are compatibility problems with loads that generate harmonic currents
Battery care system
Proper battery care is critical to ensuring correct UPS operation in emergency conditions. The Riello UPS battery care system consists of a series of features and capabilities to optimise battery management and obtain the best performance and operating life possible.
Advanced communications
Multi Sentry is equipped with a back-lit
graphic display (240x128 pixels) providing UPS information, measurements, operating states and alarms in different languages. It can also display wave forms and voltage/ current forms.
he Riello UPS Multi Sentry series offers a range of large power sizes to choose from, including 10, 12, 15, and 20 kVA, while still maintaining a small footprint. This series also features a zero impact source, providing flexibility of use, and advanced communications capabilities. It is an ideal solution for protecting critical systems such as data centres, telecommunications systems, and IT networks, where a reliable energy supply is essential for uninterrupted operations.