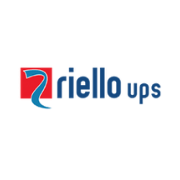 High efficiency
Sentryum is a true ON LINE double conversion UPS system providing the very highest levels of power availability, flexibility and unrivalled energy efficiency with superior performance for any small Data Centre and mission critical applications.
Compactness
Modern guidelines and sustainable best
practices direct us to conceive and design
UPS with particular focus on the entire
product life cycle, therefore applying
ultimate but resilient technologies, recyclable materials and miniaturisation of assemblies whilst ensuring the systems global reliability, which is pivotal for any UPS
Riello UPS System Sentryum 100kVA S3T 100. The layout of this model doesn't allow for the installation of internal batteries and transformers. However, as per the XTD model, the mechanical design does make it possible to easily change the degree of protection from IP20 to IP21 or even IP31. In addition, the S3T 80-120 models can become compliant to ICC-ES AC 156 (2020) simply by adding the optional seismic kit.
• Extensive range of solutions
• Compactness
• Efficiency up to 96.5%
• High power availability
• Smart Battery Management
• Maximum reliability
• Flexibility of use
• Graphic touch screen display