Riello Sentryum Rack ranges power from 20kVA standalone - 160 kVA in modular versions
The basic building block is a 20 kVA/kW module. Its connection clamps are laid out so that the communication signal connections are segregated and separated from the power connections (2 inputs, output, battery), thus ensuring complete immunity from interference generated by the power supply grid, which is typically disturbed in industrial environments. The module has a front-to-back airflow, realised by a smart ventilation principle, which manages the fan speed and airflow in accordance with the room temperature and load level.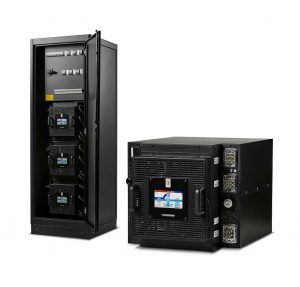 Riello Sentryum Rack Specs
High adaptability to input voltage
Compatible with industrial environments
Suitable for stand-alone and modular installations
Graphic touch screen display
It accepts both single-phase and three-phase inputs with no need for special setups or operator intervention. The voltage arrangement could change during operation without any reset or manual operation, therefore the UPS auto-detects the input voltage and behaves accordingly.
MODULAR PLUG & PLAY SOLUTION
Riello Sentryum Rack can be purchased as a single 20 kVA/kW module and installed in a 19-inch rack cabinet. Another way is to lean the module on the right side; the display can be rotated 90° counterclockwise. It is also possible to remote the display (maximum 2 meters) in case the module is fitted inside a cabinet.
SMART BATTERY MANAGEMENT
The Smart Battery Management system, compatible with Li-Ion batteries and supercapacitors, consists of a series of features and capabilities to optimise battery management and obtain the best performance and operating life possible.
ADVANCED COMMUNICATIONS
20kVA Sentryum Rack module is equipped with a coloured graphic touchscreen display providing UPS information, measurements, operating states and alarms in different languages.
| | |
| --- | --- |
| Weight | 41.000000 |
| Dimensions | 397mm (9U) x 664 mm x 445 mm (19") |
| Application | Servers and Networking, Data Centres, Building Systems |
| Standalone / Modular | Rack Mount |
| Design Life | 15 year |
| System Brand | Riello UPS |
| kVA | 10-20 KVA |
| kVA UPS | 20kVA UPS |
| Product Type | Three In - Three Out |
| Form Factor | Modular, Rack Mount |
Interested in the Sentryum Rack? We are happy to provide more information and quotes. Don't wait, get in contact today.