Computer Power Protection (CPP) are the UK's largest distributor of Riello UPS. CPP have Riello trained engineers, so in the unlikely event of a problem with your Riello UPS, we can help. As an independent supplier of Riello UPS systems, we have a great understanding of all the Riello UPS, where they are ideally suited for and all the advantages they offer.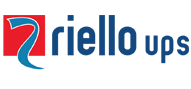 Riello UPS allow all businesses and organisations of all sizes and structures to protect their critical infrastructure against power cuts and surges. All businesses from start-ups, small-to-medium sized operations, and multi-national corporations including household names, public services and government departments can benefit from a Riello UPS. If you need help find a Riello UPS to match your individual specifications, why not contact us.

Riello UPS Product Ranges
Riello UPS have an award-winning range of uninterruptible power supplies that can be specified for use across most business-critical data centres and servers in use. In an age where demand for both storage and processing capacity continues to increase, energy management is becoming more and more important.
Riello UPS' R&D is constantly striving to improve efficiency for all their UPS across the critical power protection sector. They were the first European UPS (Uninterruptible Power Supply) manufacturer to implement an Eco Energy Level rating, which demonstrates the great environmental performance of their products.