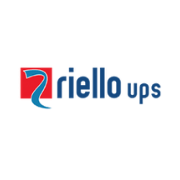 DUAL INPUT
The Riello UPS Central Supply System 10 kVA UPS (CSS 10 TT) is equipped with DUAL INPUT as standard on all models. This important feature allows the mandatory scheduled checks on system operation and autonomy to be carried out with extreme ease and in complete safety by simply operating an input switch. This switch interrupts the power supply to the machine without interrupting the bypass line, which is able to support the load in the event of test failure.
HIGH OVERLOAD CAPACITY
As required by standard EN 50171, the Riello UPS Central Supply System 10 kVA UPS (CSS 10 TT) range is designed and sized to support continuous overloads (with no time limits) of up to 120% of the machine's nominal power rating.
PROTECTION AGAINST BATTERY INVERSION
Mandatory in line with standard EN 50171, protection against battery inversion ensures the safety of those carrying out maintenance operations on the devices and at the same time prevents damage to the system in the event that the batteries are inadvertently connected with the wrong polarity.
BATTERIES WITH 10 YEAR LIFE
HIGH RECHARGE CURRENT
GENERAL FEATURES
In addition to the features mentioned here, the Riello UPS Central Supply System 15 kVA UPS (CSS 15 TT) range has all the features of reliability and flexibility common to the UPS range it derives from, as well as offering compatibility with the main options and accessories.