Having a damaged power cord can be catastrophic and can cause permanent damage or harm to the user. Power cords, cables and connectors are used in electronics and technology with the job of transferring electrical power from an outlet to a device to fulfil different tasks whether that is charging or powering/operating the device. These cables are primarily responsible for transferring large amounts of electricity. Ultimately, power cable damage exposes the internal components of power cords. This increases the risk of electrocution for the user, and can create other complications like overheating or a fire. 
POWER CABLE DAMAGE: WHAT ARE THE DANGERS?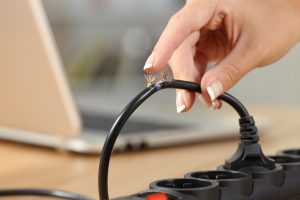 There are a number of dangers to consider when handling a damaged power cord should you need to do so.
Here are the risks:
Electric shock
Fire
The facility will not be compliant with HSE's Electricity at Work Regulations
WHAT ARE THE SIGNS OF A DAMAGED POWER CORD?
Here is what you should be looking for when checking your cables:
Tears in the cables
Fraying of the cables
Melted plastic around the cables
Exposed wires (results of long term fraying or deep tears in the cables)
Burn marks (can be linked with melting plastic)
If you notice any of the following signs mentioned above, it is always advised and recommended to replace the cord or the whole appliance. alternatively, it is encouraged to seek the support of a qualified electrician depending on what type of cable/location and what it powers.
PREVENTION TIPS
In order to avoid damage, it is recommended that any appliances with long or loose cables are kept away from small children and pets and in places where they won't get tripped or pulled. However don't hide the cables by placing cords under carpets or rugs is best avoided, as stepping on them can cause wires to compress causing damage and stop working.
When storing appliances or devices, avoid wrapping the electrical cord or cable around the appliance as it damages the wire internally.
Finally, if any DIY projects are being conducted in your home or office it is important to be mindful of connected appliances.
If you need help, guidance or advice please get in contact with us here at Computer Power Protection or alternatively please feel free to use the short enquiry form provided below.