Mandatory UPS Guide for Sprinklers
Starting June 30th, 2021, it became mandatory for residential and domestic buildings that are 18 meters in height or have 4 storeys or more to have an installed backup power supply and automatic changeover functionality (known as a Mandatory UPS system).
For safety and regulatory compliance, all large residential and domestic buildings must have a backup power supply and automatic changeover functionality (Mandatory UPS system) installed. This requirement ensures that the sprinkler system, which is vital for fire prevention, is connected to two power sources for redundancy. The primary power source is the mains supply, which operates normally without interruptions or power surges. The secondary power source is an uninterruptible power supply (UPS), which is installed as a safety measure and regulatory requirement. In the event of a power outage while the sprinkler system is being used, an automatic transfer switch transfers the load from the mains to the UPS system. This installation makes residential and domestic buildings much safer in case of a fire.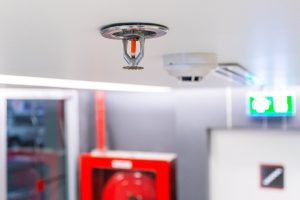 As the power grid ages, frequent power cuts are expected to occur more often due to uncontrollable factors such as natural disasters and storms. A UPS system provides protection against these issues by ensuring critical systems remain available when needed, whether it's for a safe shutdown, to bridge systems until the generator becomes active, or to supply power to essential equipment.
Our engineers are trained by the UPS manufacturers, giving you the best service there is to provide so you have easy convenient engineers and hassle-free price-beating quotes. We can guide you through the whole process of supporting your sprinkler system or any other essential safety equipment.
In summary, it is now mandatory to have a backup system for all large residential and domestic buildings.
If you need to get in touch head over to our Contact Us Now or alternatively use the form provided below