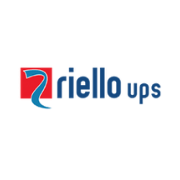 Operating flexibility
Different operating modes that can be
programmed according to user requirements and the load to be powered have been introduced in order to reduce energy consumption
Economy Mode
the UPS uses line interactive technology, with the load powered by the mains, reducing consumption and thus improving efficiency (up to 98%)
Stand by Off (emergency)
The UPS supplies the load only when the mains fails. The inverter begins working with a progressive start-up sequence to prevent inrush currents.
Riello UPS Sentinel Pro 1KVA (SEP 1000)
7 minutes runtime without an additional battery pack.
Alternatively, you can add battery packs to increase the runtime. You can choose 19 mins at full load, 35 mins at full load or 66 minutes at full load.